Tu 22. Feb 2022
Textile designer with Chilean roots
Artists of Schwabinger Tor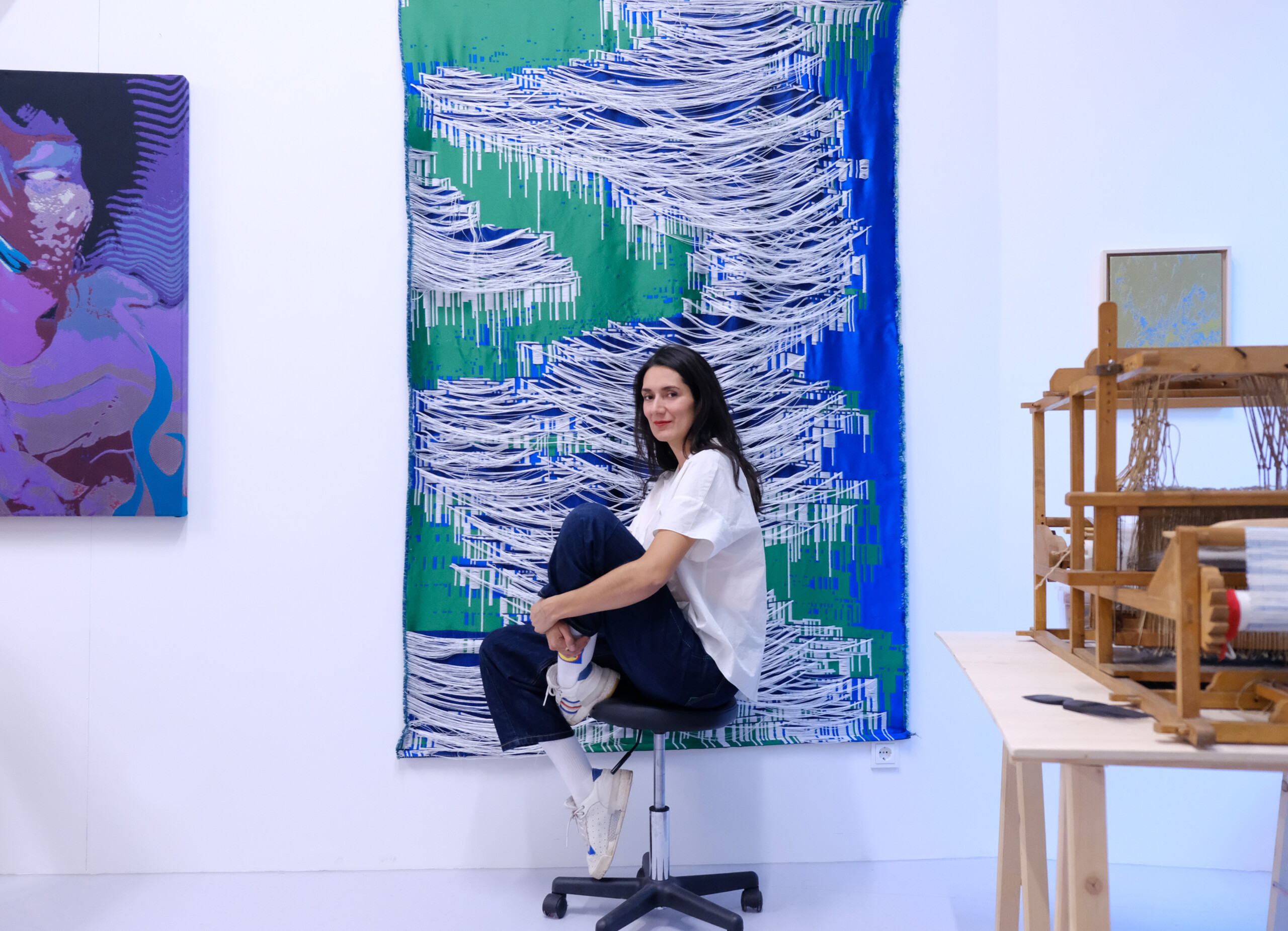 Constanza Kramer
Art and Schwabing - they simply belong together. For this reason, we are delighted to finally introduce you to our six outstanding artists from the Superplus Studio at Leopoldstr. 160 in Schwabinger Tor.
Today: Constanza, 33 years old, textile designer with Chilean roots.
Hi Constanza! What kind of art do you create here at Schwabinger Tor?
I'm a visual artist, I studied at the art academy in Halle, Burg Giebichenstein. Most of my work revolves around jacquard and image weaving. I prefer to create large-format pictures. For this I work on my own loom on the one hand, on the other hand a large part of my work is now done by weaving machines. Depending on the project, I then create individual textile designs on the computer and work closely with a weaving mill in Italy that eventually produces my designs. I love the craft and combine it with the necessary technical know-how in my studio.
That sounds very versatile. What is special about textile design?
Textile design is incredibly sensual. You can touch, feel, look at, even smell and hear the fabric. When I'm in Italy, I enjoy the sound of all the weaving machines - it's like music to my ears. Then I feel a real connection to the machines. For me, fabrics are emotional and functional at the same time. I love to test limits: limits of the weaving machines and also limits of the material I work with. The biggest challenge and at the same time my biggest passion is the interaction between man and machine, the translation of my idea into a fabric, a yarn. This is quite wonderful and gives me a lot of ideas for new projects every day!
What has influenced you the most in your artistic life so far?
After my studies I was in Japan for two years - here I learned an insane amount about natural dyeing with plants from two Japanese master dyers. This has had a great impact on me and continues to do so. Privately, I grow my own dye plants and exchange information about specific dyeing methods with people from other countries via social media. Certain colors can only be created in certain places because the conditions there are right, e.g. the mineral content of the water. This is crazy exciting! Growing Japanese plants at home is a kind of life project of mine. I want to understand the plants and work with them. This also has a great impact on my work as a textile designer, because a textile doesn't just come into being when it's woven, but before that, with the material. I'm interested in where the material comes from, where its origins are, and also how to reestablish specific materials that were once indigenous here. In the past, for example, there were many nettle cloth weaving mills or yarn spinning mills in Germany that produced yarns from linen. As you can see, one topic leads to another - I could go on forever ...
Are you particularly proud of one of your works?
Last year I had the privilege of helping to create a very special costume for the Bavarian State Opera. I developed a jacquard fabric for the so-called "King's Coat" of Idomeneo. The coat was supposed to look noble but still have a tattered look. Countless hanging threads formed a central design element. Seeing a textile I created on an opera stage was a great first for me! Really, it was a great honor to work here and yes, I am proud of that!
Why did you settle in Schwabinger Tor?
What I really like about my studio is the height of the room. When I was here for a tour, I was immediately blown away. I work on a very large scale. The high workspace offers me an extremely wide range of possibilities, I also come up with new ideas because of the room height, I can work much more freely. A room height of 5.30 meters screams "think big," doesn't it? (laughs) With such a size, you can quickly move away from costume design, for example, and even think in the direction of stage design. I also really like the studio community itself. I simply feel at home, people constantly walk past my large window front, look in, show interest. It's really a kind of place of leisure here, not like downtown, people are just more relaxed here. And of course the culinary offerings all around are a hit. I love the Jaadin!
Reach to the stars: Where is your artistic journey heading?
One day I already dream of having my own large workroom. I have a passion for collecting looms and knitting machines. Currently, five of them are stored at my mother-in-law's in Pfaffenhofen, only the smallest loom was allowed to move with me to Schwabinger Tor. So to have a larger studio someday, to have my hand looms at the ready, to exchange ideas with other textile craftspeople and to work on projects together, that would be really great.