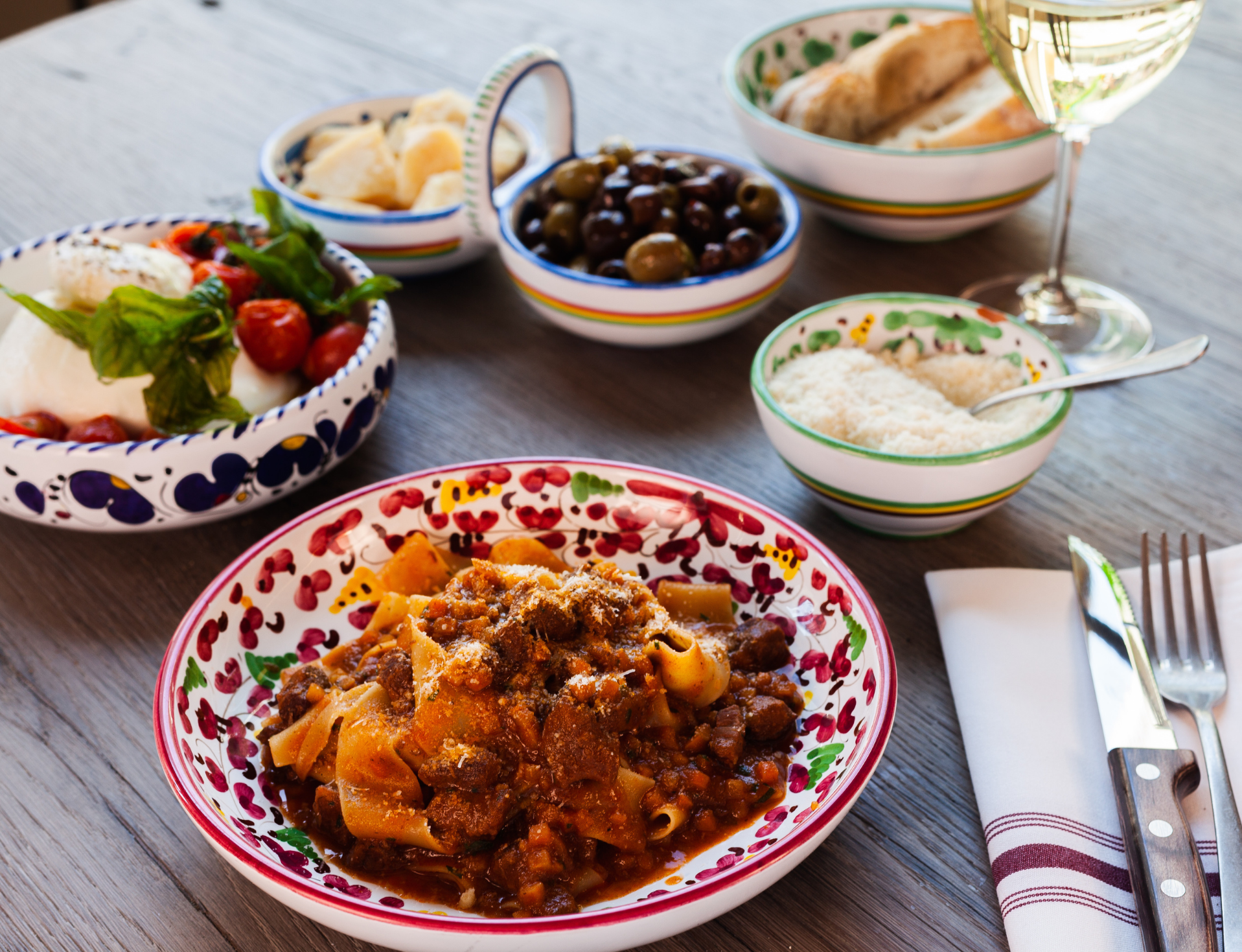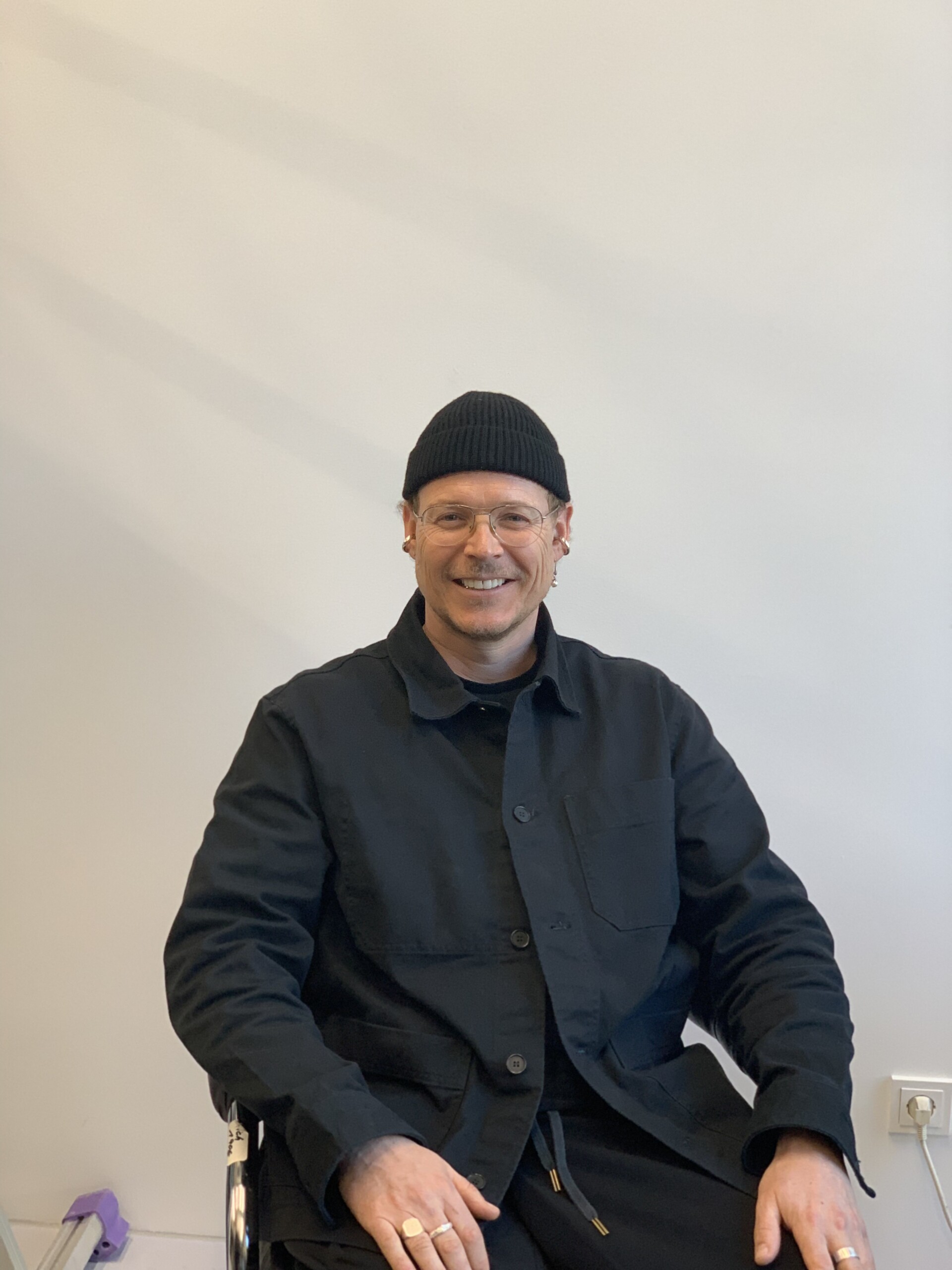 Unconventional fashion for individualists — Th 7. Apr 2022
Artists of Schwabinger Tor
Our today's "Artist of Schwabinger Tor" has been around a lot in the fashion world. From studying in London to the big fashion shows in Milan and Paris, he was finally drawn to Munich. Since February TOM REBL is part of our artist collective and we couldn't be happier to welcome such a fashion icon to Schwabinger Tor.
Hi Tom! What kind of art do you create here at Schwabinger Tor?
I'm a fashion designer and sell unconventional fashion for men and women through my eponymous label TOM REBL. My style is subtly provocative, but not quite as wild as it once was (laughs). Today I work with a lot of attention to detail, attach great importance to the fit of my creations. The most important thing for me is and remains that people feel good when they wear my fashion.
Tell me, how did you get into fashion in the first place?
I grew up in Landau, Lower Bavaria, and after graduating from high school I entered the fashion business via the German Master School in Munich and my studies at St. Martins College in London. During my studies I was able to gain great practical experience at fashion houses like Vivienne Westwood and Alexander McQueen. So it looked like a relatively smooth path - I thought I would find a job easily, but then everything turned out quite differently and I started as a trend forecaster at a startup.
But trend scouting doesn't have much to do with the actual creation of fashion at first? hat?
That's true, but it was still a very enriching time. I traveled a lot and was able to track down trends on the streets of big cities. With all that inspiration in my luggage, I finally took the plunge and applied to work as a designer for Andrew MacKenzie in Italy. The acceptance came promptly and then I was thrown into the ice cold water.
What exactly did your ice-cold water look like?
When I came to Italy, I went straight in as creative director, because Andrew MacKenzie himself had decided to leave the company. Phew, I had a lot to shoulder there. To this day, I sometimes puzzle over how that worked out so well. But I just did it, was pretty hands-on, and created my first women's, men's and accessories collections that way. Along the way, I learned Italian, attended fashion shows, and really understood the business in the first place. That was an intense time. Because I really wanted and had to maintain the label's signature to a certain extent. You can't just start somewhere and live out your own style. The producer at the time was a huge help to me because he knew Andrew's designs very well. So my start in the fashion business was really one from 0 to 100.
What happened next?
Andrew MacKenzie bought back the rights to his brand after quite some time and so I was once again faced with a big decision: Do I want to put myself at the service of another fashion house again, or do I take the plunge and start my own label? My producer quickly realized that only the second way would be my path. He encouraged me and so "Tom Rebl for Andrew MacKenzie" finally turned into "TOM REBL - Shocking Radiance" in 2008.
What does "Shocking Radiance" stand for?
Pretty early on, I set my sights on a fashion style that went against the mainstream. At the beginning, I wasn't quite sure what 'my style' actually was. I just knew that boring, monotonous styles were not it. And so I approached it bit by bit. In the end, I became known for provocative prints or leather jackets with huge, pointed rivets. So a little bit of punk and rebellion, a little bit of "shock" was always recognizable in my pieces. My trademark has become the kissing mouth. The stylized lips as part of the logo are a symbol of sensuality, recognizable on the one hand, but also unmistakable around the world. In this I have found my style well.
And what are you doing today?
The Corona crisis hit the entire fashion industry pretty hard. The situation in Italy was really dramatic in the spring of 2020. So I made a virtue of necessity and changed again. When the "red zone" was declared in Italy, I was just in Munich. Returning to Milan was not an option for now, so I gave myself a creative break and spent three very intense months with my parents in Landau. It was a great time that gave me a lot and also made me rethink. The 'higher-faster-further' of the industry had been bothering me for a while, I didn't want to go back there. So I decided to slim down my brand, to think more in terms of capsule collections and to focus on direct sales. So that meant bye bye, Fashionweeks, bye bye wholesale! And I'm telling you: I am so happy to have taken this step.
And that's how you finally ended up at Schwabinger Tor?
In the end yes, the way there still dragged on a bit, but since February I am now part of the studio community and am very happy. I still have my apartment in Milan, but I'm arriving here more and more. My studio is my attic. That's what I call it. It is a storage space where energy, matter and goods are stored. But everything remains in flow - it's meant to be a kind of "open house". Anyone can drop in and say hello. Of course, this idea also favors the very open architecture. The large window front makes my storage unit look as if it were a small store of its own. I fell in love with it right away and learn to appreciate the surroundings more every day. My view practically overlooks the Schwabinger See lake, and there's always something going on here. Only recently I officially opened my studio, the direct contact with people is enormously important to me.
Who is your fashion aimed at today?
My fashion is still made for individualists. For people who want to stand out, stand out from the crowd. Just like me, most of them are very cosmopolitan, like to travel, know fashion. Over the years, many celebrities have also sourced their stage outfits through me. From Sharon Stone and Justin Bieber to Eros Ramazotti, Dieter Bohlen, Green Day, Jorge Gonzales, Peter Maffei, Papis Loveday and many others. It makes you proud to see your own creation on the big world stages!
Where do you draw your inspiration from?
Basically, I incorporate my entire life into my fashion. Everything influences you, where the inspiration comes from in the end doesn't really matter. But I always have a sketchbook with me and yes, a very big passion is still traveling. Now that it's getting easier again, I'm looking forward to my next visit to Beirut. I love the city, everything is so lively there, I met incredibly interesting people. Beirut is alive with great restaurants and bars, eclectic designs.
Reach to the stars: Where is your artistic journey heading?
For now, it's important for me to keep my independence and live it out here at Schwabinger Tor. Besides developing my 'new' TOM REBL label, I also want to continue teaching. I am a lecturer at some universities and I really enjoy passing on what I have experienced. The fashion business is a tough business, many students get their inspiration from the internet, but they sometimes lack the connection to reality. Some have misconceptions about Fashion Weeks, parties & Co. - so they don't underestimate the actual work that goes behind it, I want to accompany them. The rest I let come to me.
#Thank you for these insights, dear Tom - we love to be your Art Homebase!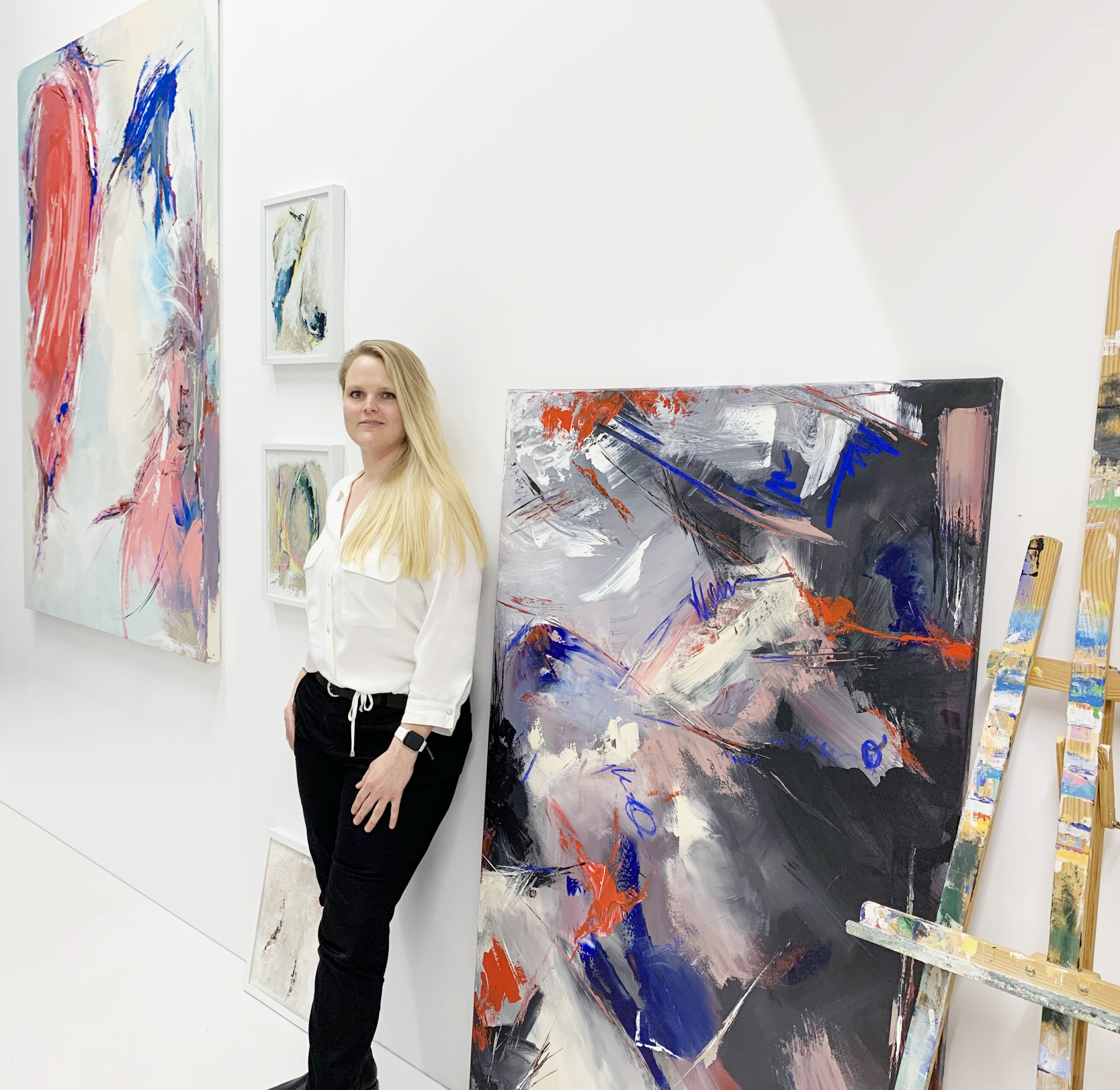 Contemporary Art — Mo 28. Mar 2022
Artists of Schwabinger Tor
From light and dark to neon yellow to off-white - the main thing is abstract and rich in contrast. This is how Chantal van der Bol, our current "Artist of Schwabinger Tor," works. The 33-year-old German-Dutch loves colors and puts them in her paintings incredibly multifaceted in scene. Watch out for her - we are sure: this is only the beginning of a steep career!
Hi Chantal! What kind of art do you create here at Schwabinger Tor?
I paint pictures - quite abstract, often colorful and mostly very large. Modern art, then, or Contemporary Art, as many say. I've been working as an independent designer since 2016, before that I studied art and design history. After a few years as an art director on the agency side, I am now devoting more time to art. My focus is on the interplay of colors and contrasts. Because the mind does not focus on individual things, but the painting can speak to you. So my paintings are not figurative - you don't see a particular symbol, for example. Everyone can stay with their emotions and ideas and let the painting touch them. I like that very much!
That sounds exciting. How do you create your works?
I prefer to work with acrylic paint on canvas or paper and actually very much on the floor! There I can live out the dynamics of the image particularly well. My works are always based on a theme, an idea. The colors used play a central role, because each has a special effect in the psychology of color. In addition, there is the interplay of shadow and light, which I also always include. And in the end, of course, the one question: when is the painting really finished? I've already thrown many a design in the garbage can because I missed the right moment. I love details, and sometimes there are just too many ... (laughs)
When you work in such detail, how long does it take you to complete one of your paintings?
It varies a lot. I estimate that for a large work it is probably 30 hours. I usually make sketches in advance, try out color mixes, think through my technique. I always start with a good primer on the canvas, which is essential to give the colors depth and luminosity. Then I work in different layers, sometimes using structural paste - all of which also requires a drying phase in each case.
Of course, I also always have an eye on the build-up of tension, the lines, the flow in the painting. So the hours of work on a canvas drag on much longer than one might think. I let the painting work on me in the meantime and always want to be open to something unexpected. This is a creative process, sometimes I see new ideas in the course or give this new impulse space. Then the working time can extend again.
And in many cases I also string my frames myself beforehand.
You cover your frames yourself?
Yes, that's mainly because some canvases don't even exist in the size that I like to work with. That makes the artwork even more valuable to me in the end, because canvas-covering is in itself very laborious and time-consuming.
Where do you draw your inspiration from?
Colors and contrasts have fascinated me in a very subtle way since I was a child. I love colorful flowers, I just bought a bouquet of bright yellow daffodils, which I enjoy every day. In general, nature gives me a lot - it's a great balance and haven of peace to all that is often loud in my job in terms of color, shape or tone. My second great source of inspiration is the exchange with other cultures. My partner, for example, comes from India - we have been there together several times and I can hardly put into words how much the impressions have shaped me. Being part of the Indian family and culture is an incredible gift for me.
gift. Taste, food, clothing, contrasts, fabrics - it all inspires me insanely and I want to continue to pick up on the cultural contrast artistically.
Why did you finally settle at Schwabinger Tor?
I used to work from home and simply realized that I needed more space. Corona made that clear once again. So it went from the home studio to the super+ studio at Schwabinger Tor. The studio is ideal for me because I like to work on large surfaces. Certain formats are only possible for me here with the high ceilings, which was simply not feasible at home. When I saw the studio for the first time, it really screamed YES in my head. And since I moved in, everything feels right, too. The location and openness of the neighborhood are great. I love the architecture and the interior design of the studios, it's already "state of the art" - haha! Through the large window front, I get to see an incredible amount of the outside world. Sometimes people knock and ask if they can come in. That touches me very much and is always welcome. Through my small gallery I have also already received commissioned work - so it's really worth it!
And how does that work with the other artists in the studio community?
We complement each other very well. I'm totally grateful for this creative platform, the diverse exchange. We can all benefit from each other, also work together on projects and develop further. That feels great. Even away from work: We often have lunch together; Schwabinger Tor offers a lot of cool gastronomy. I
love the food at Hope, but I generally like the spirit in the neighborhood, that people work, live, and also live here. It's a great mix!
Reach to the stars: Where is your artistic journey heading?
For now, I'm super happy in my studio and feel like I've really arrived. In terms of content, I'm currently planning a new level of abstraction - more reduced, fewer colors, stronger expression. So I want to consciously reduce the very colorful a bit, most recently I used a lot of natural and soft off-white tones. Otherwise, for now, I'm continuing to work on my artistic appearance and my online presence. I want to exchange ideas with more artists, network better and, in the long term, of course, find more galleries and partners to exhibit my art. It's a very exciting time and I'm looking forward to each of the next steps!
#Thank you for these insights, dear Chantal - we love to be your Art Homebase!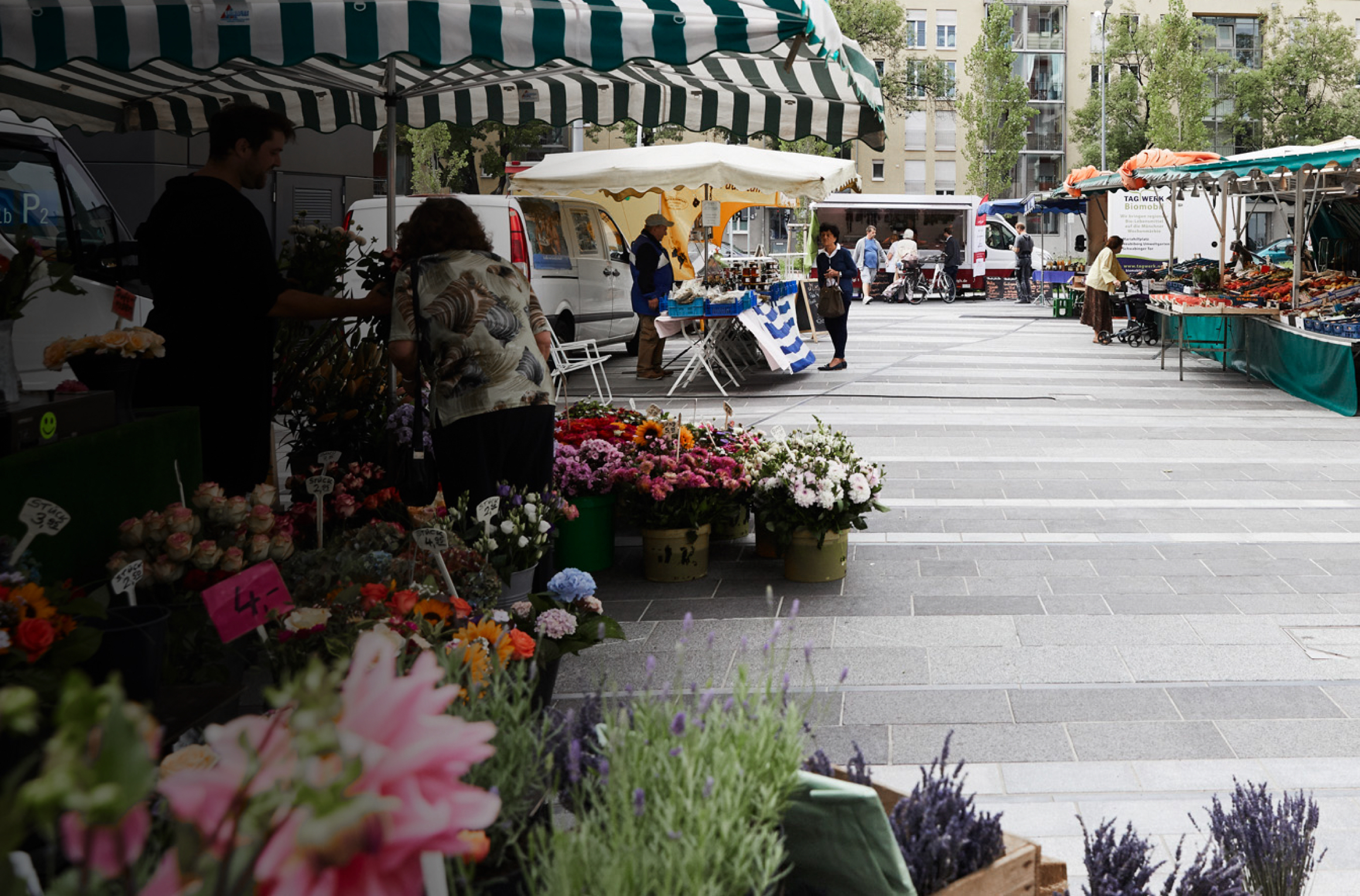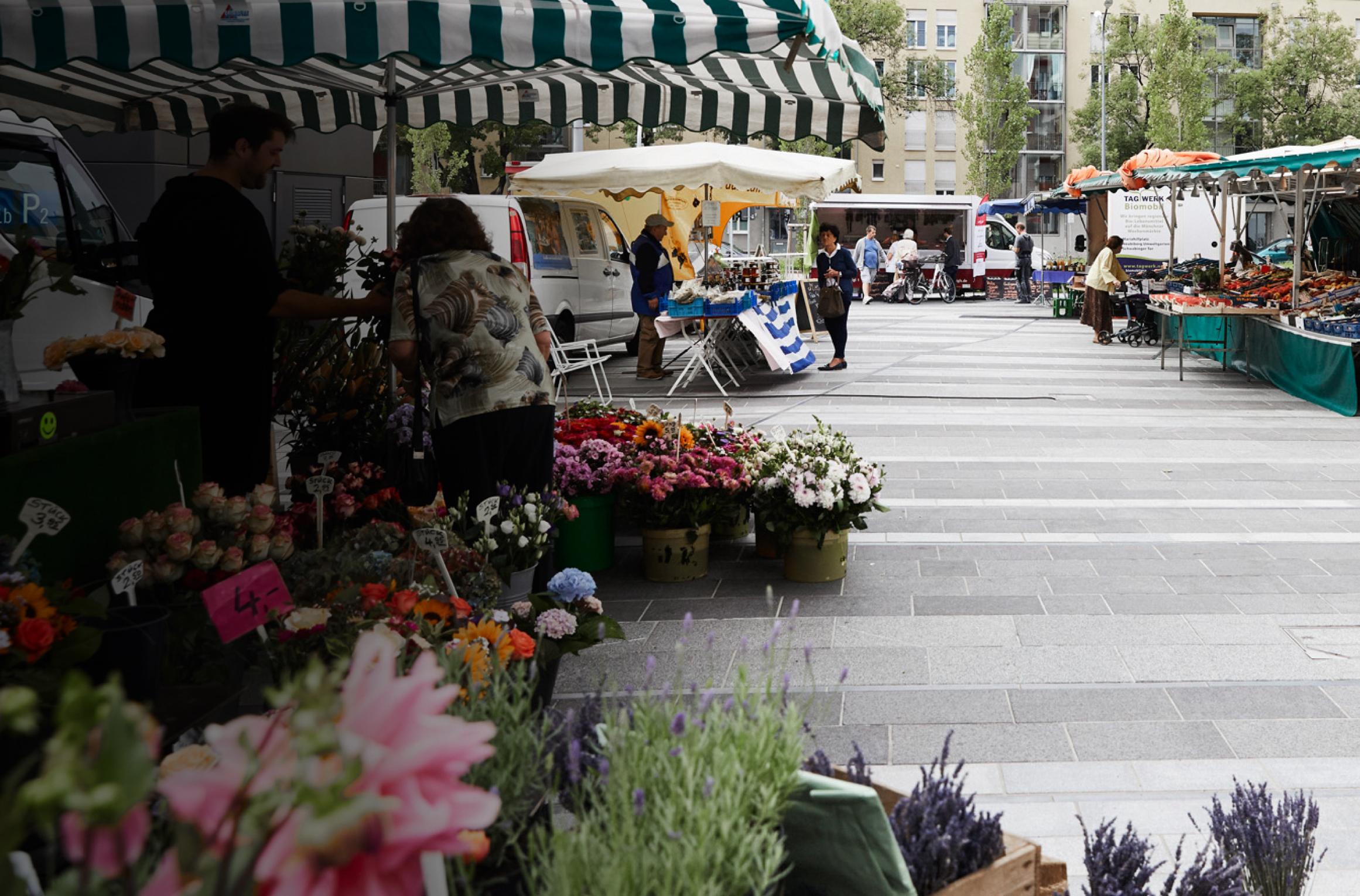 Fr 27. May 2022 — 10–18 Uhr
Wochenmarkt
Weekly market
The following stands from the region sell their fresh products at our weekly market:
_ Tagwerk-Biomobil Prenning from Dorfen, organic cheese
_ Panzos Mavridis from Dachau, Greek specialties
_ Gianotti Massimiliano from Bad Tölz, fresh Italian pasta
_ Feinkost Mitterer from Munich, meat and poultry
_ Xhevat Osmanaj from Munich, fruit and vegetables
_ Geigl's Landmetzgerei from Saaldorf-Surheim, meat and sausage
_ Olivenhandel Sadak from Fürstenfeldbruck, Mediterranean delicacies
_ La Poissonnerie Donat & Donat from Geretsried, fish and seafood
_ Blumen Prock from Ebersberg, flowers and plants
_ Winzergut Prabatsch from Aichinger, wine (every last Friday of the month)
The offer is supplemented by weekly changing food trucks.
Translated with www.DeepL.com/Translator (free version)
STREETCAR STOP
Schwabinger Tor
Every friday from 10 till 18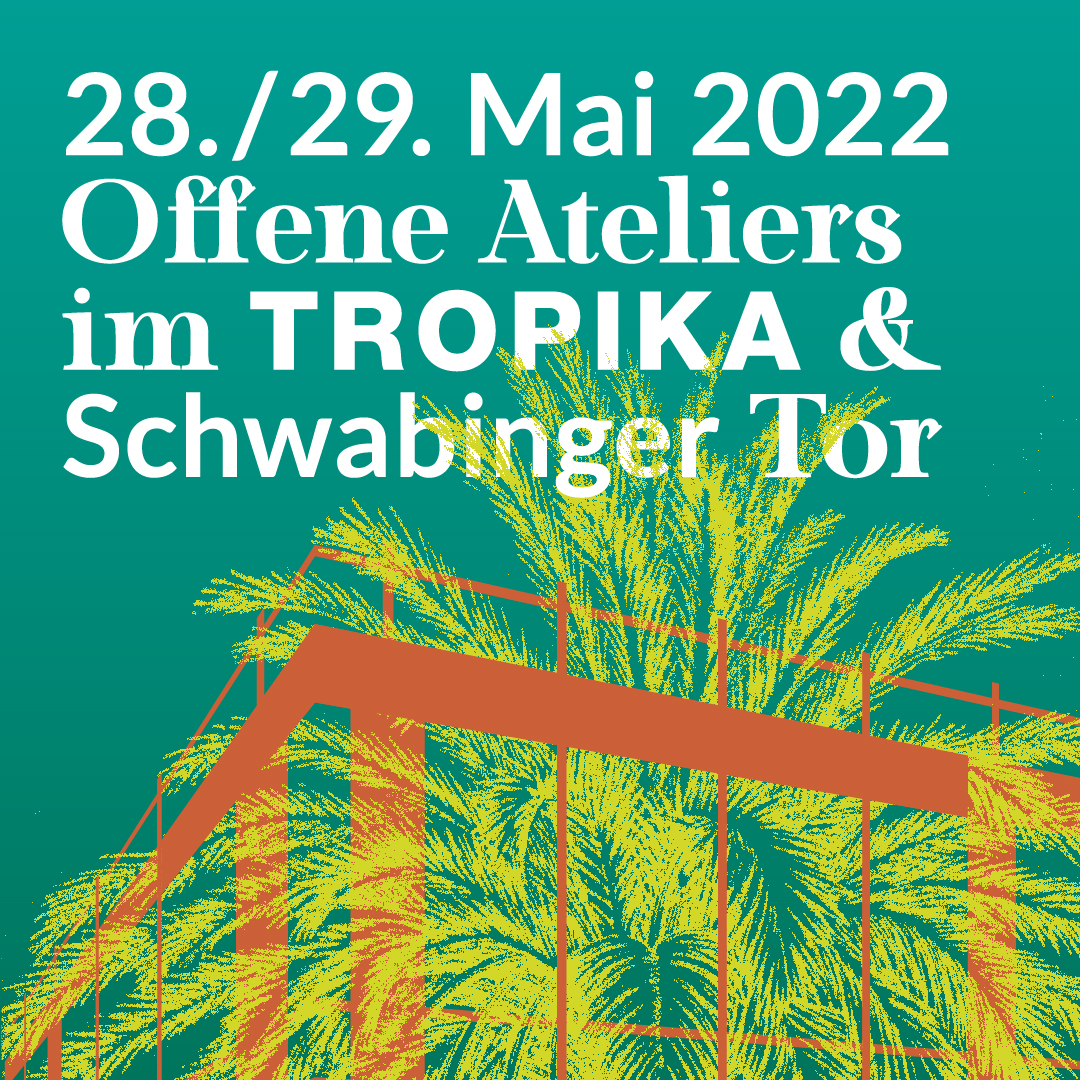 Mo 23. May 2022
Schwabinger Tor
super+ open Ateliers at Schwabinger Tor
FINALLY the time has come: The super+OpenAteliers are back!
At the end of May, the artists and creative professionals at and in the Schwabinger Tor open their studio doors and provide a unique insight into their work. You are invited to personally meet the numerous creatives in their studios, to see their work and possibly to purchase it. Of the more than 90 studios in TROPIKA and the 6 studios in Schwabinger Tor, many doors will be open to welcome you. Of course, physical well-being is also provided and against tired legs there is, among other things, an Ethiopian coffee ceremony to discover.
Let DJs and musicians surprise you with a drink at the bar in the courtyard.
https://www.facebook.com/events/1033996740833345/1033996750833344?ref=newsfeed
28. & 29. may
View all upcoming events?
Pictures often say more than words.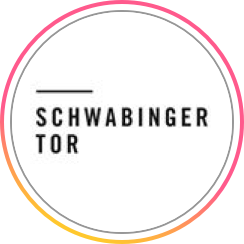 Schwabinger Tor
on Instagram
The innovative Munich city quarter that combines all the modern facets of big city life: Living. Work. Enjoyment. Culture.
#schwabingertor