Tu 1. Mar 2022
Alejandra Heartist - Tattoo artist with heart and soul
Artists of Schwabinger Tor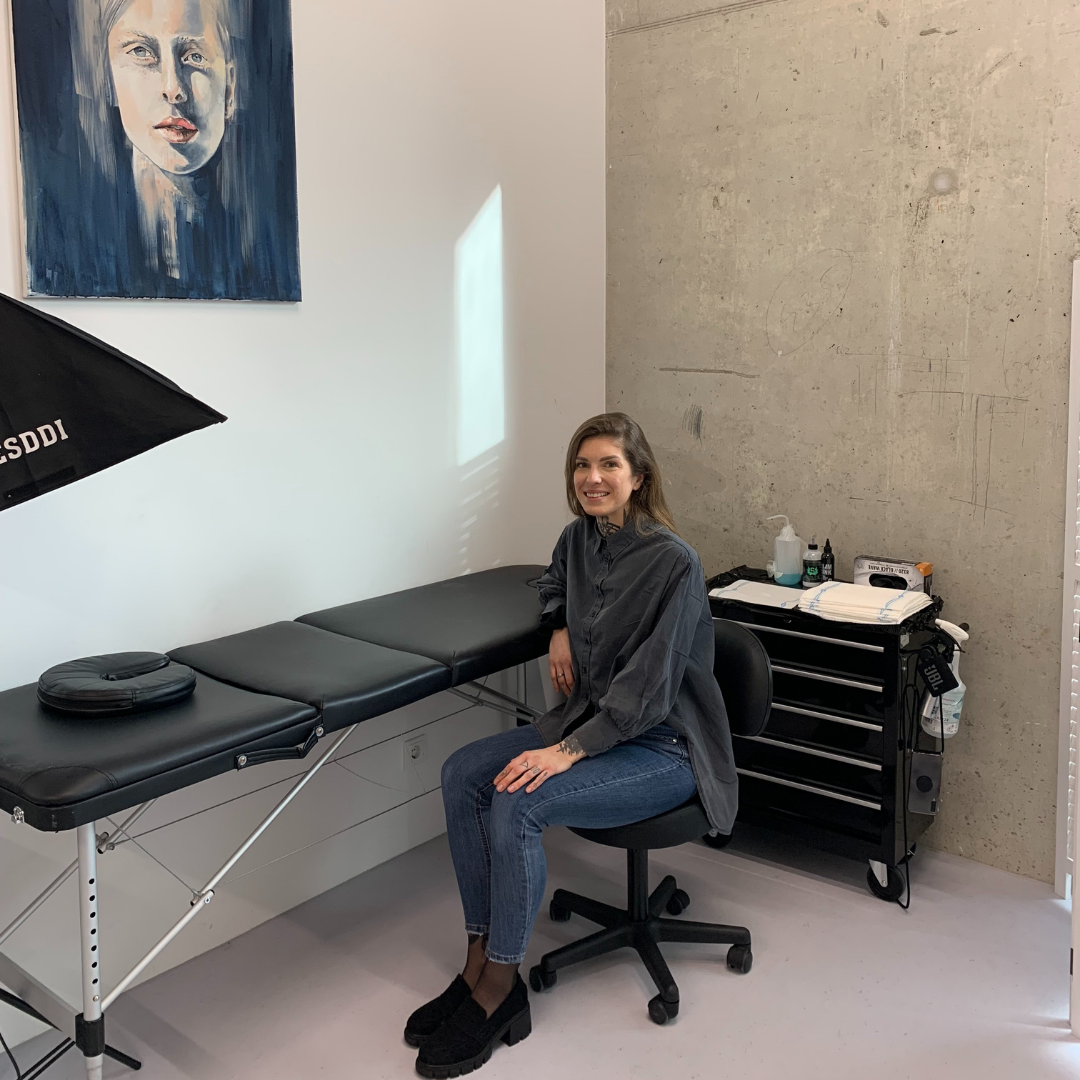 Hi Alejandra! What kind of art do you create here at Schwabinger Tor?
I am a tattoo artist. So I work with the needle on the skin, my art surface is the body and that alone makes each of my works something very special. From the style revolves around fineline, micro-realism, realistic work on a small area, dot work. But only in black and gray tones, I'm not a fan of colorful tattoos.
How did you get into tattooing?
I got my first tattoo when I was 18 for my high school graduation. And at that time of course also thought about where my professional journey should go. I have always been creative and loved to paint. When by chance I was able to get to know the work of a tattoo artist closer I immediately thought to myself, "This is the best job in the world." (laughs)
Nevertheless, I was first enrolled in media design at a Berlin university, but I quickly realized that it was too technical for me. Well, and then I simply ordered my own tattoo machine. I was curious and wanted to try it out for myself.
So you just went for it?
Well, I first wanted to find out if I like working with needle on skin, because, of course, that's something completely different from pen on paper. After a few internships in various tattoo studios, I was finally my first customer. In between were many Trial tattoos on banana, orange and rubber practice skin. And then came the day X, on which I was tattooist and tattooed in personal union. Out came a four-leaf clover next to my knee. I still have it today and have to say: It looks does not look so bad! 😄 But seriously: At that time I already had some Tattoos and for a first try you need a place that is easy to reach. Believe me: Every tattoo artist has some nonsense on the leg, haha!
You started ten years ago, and now you're booked up months in advance. How does that feel?
Sometimes it's completely surreal and I have to pinch myself. The paradox of tattooing tattooing is that there is no real training. In Germany, it's not really a real profession. Theoretically, anyone can do it, sterile needles are of course a prerequisite, but otherwise but other than that, you only have to adhere to a few hygiene standards. I nevertheless completed a more in-depth hygiene training and over the years, in addition to gaining a lot of experience, I have also experience, I have also found my personal style. I can only advise everyone to inform themselves well in advance. Ask where the paints come from or which ingredients are used - I personally work only with vegan colors from Europe, for example.
The biggest challenge in tattooing?
Tattoos are not very forgiving, so the key is a steady hand. At the beginning of my career, the biggest challenge was actually my nervousness. Back then, my hands always shook when I was nervous - a really stupid combination in my profession. Over the years, you get into a routine and you know that you can hold your hand steady. Thank goodness that's no longer an issue and the oranges of the time didn't hold it against me. I did not resent it. 😜 Today I feel certain motifs or drawing or Tattoo techniques as a nice challenge.
Are there also absolute no-go's for you?
Definitely, I do not tattoo fingers, for example, that is very difficult. I also say no to face and neck tattoos neck tattoos I say no or to requests whose aesthetics I do not understand. I have to I have to be able to read my customers, interpret their wishes and it is very important to find to find a common path. If this does not open up, I turn down requests. It simply doesn't fit.
Why did you set up shop in Schwabinger Tor?
I had already been tattooing in Berlin for many years and then just realized that it was now time for my own space. My husband and I had just decided to return to my home in Munich, so I was already looking from Berlin and came across these studios by chance. My most important criterion was the hygienic regulations - and these were of course 100% given for a first-time occupancy. I started in October 2021 and feel very comfortable. I like the layout of the neighborhood, the different places. And the exchange with my artist colleagues is also great, of course, precisely because we all work very differently. That's incredibly inspiring!
Reach to the stars: Where is your artistic journey heading?
Tattooing is my great passion and I want to continue to pursue it with full commitment. with full commitment. My artistic last name "Heartist" should also express this: Because my work really comes from the heart! If it continues to run as currently, I am very satisfied. Sometimes I would like to travel a bit more, maybe be a guest artist in other studios. Maybe this will work out in the context of my Wannados.
What are Wannados?
Wannados are tattoos that I would like to tattoo one day. It's kind of like an artistic wishlist. I maintain it online so that anyone who is interested can see it. If someone likes a motif, we talk about the implementation. In this day and age that can sometimes be someone from abroad. That would be a very attractive reason to travel. And I can always return to my studio. Yes, the idea I like it very much! (grins)