Fr 18. Mar 2022
A real one of a kind
Artists of Schwabinger Tor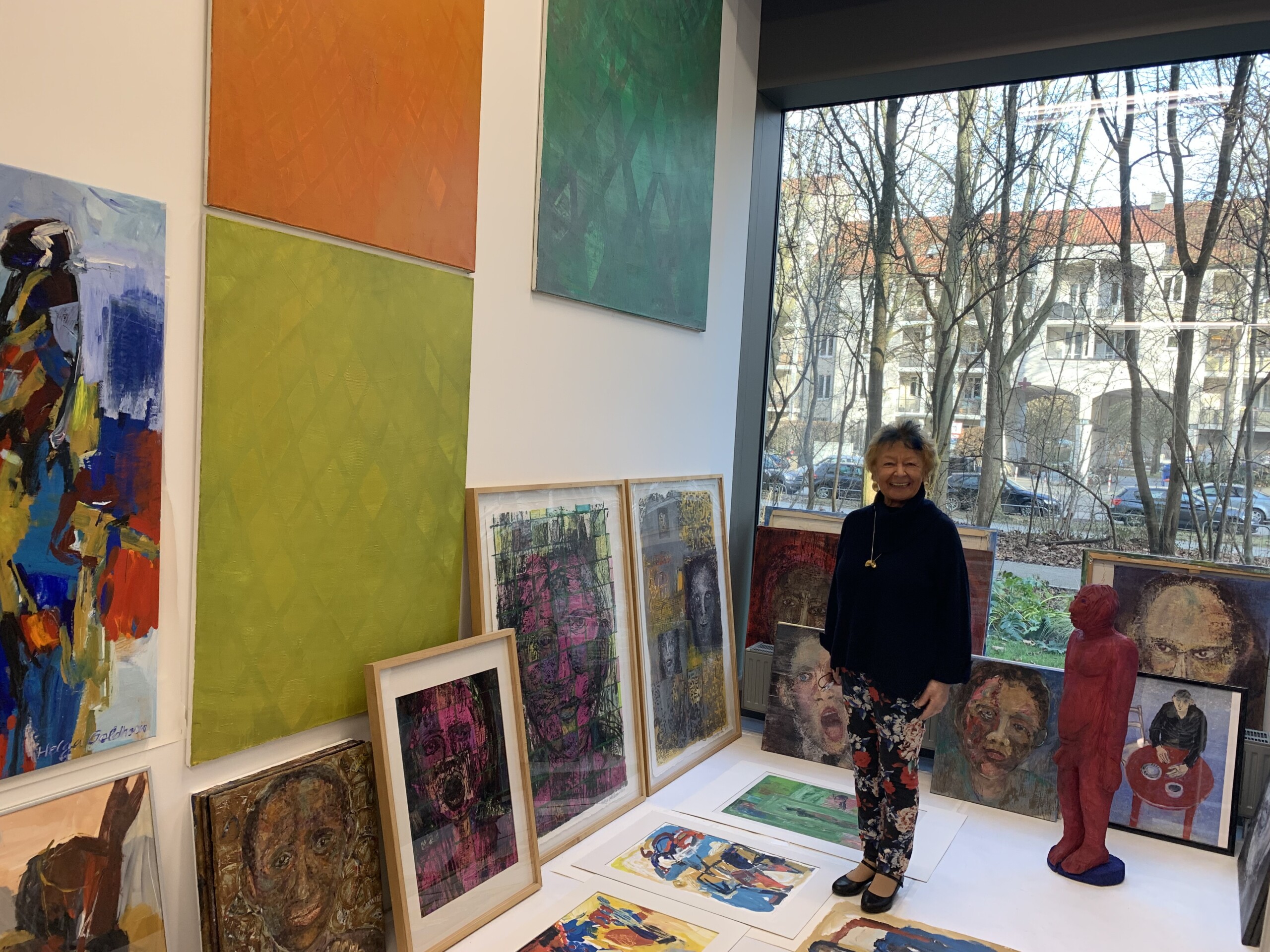 Our neighborhood artist Helga is a real one-of-a-kind. In her studio at Leopoldstr. 160 you can admire wooden sculptures and expressive paintings, in her apartment a few floors above, she enjoys her very private, grandiose view over Munich.
Hi Helga! What kind of art do you create here at Schwabinger Tor?
I am a freelance artist. I paint in my studio and of course I use the area of course, to exhibit my artwork. In the last ten years I have painting, I have also made sculptures out of wood. However, over time this became I'm not the youngest anymore (laughs). The content-related parenthesis of my artistic work is probably the human being. Yes, my main focus is on portraits, on figures that I create individually.
What makes the creation of sculptures so strenuous?
I have made all my sculptures exclusively with a chainsaw. That is extreme physical work. We used to live on the Ammersee, where I had a large garden and could let off steam. It was the time of Georg Baselitz: everyone was talking about him he was on everyone's lips. He fascinated me and inspired me to make my own wooden sculptures.
Chainsaw art: Isn't that dangerous?
Of course it's dangerous. You have to work with extreme precision and concentration. And need a lot of strength. That's why I've stopped now and sold all my saws, so I'm no longer tempted. I'm no longer tempted. (grins) Apart from the fact that I don't have the space now. My husband and I have been living in Schwabinger Tor for two years. We have a roof garden, but the neighbors wouldn't be happy about the noise. And as I said: Everything has its time!
You say your theme is people in particular. How come?
I started drawing nudes quite early, at the age of 16, in Innsbruck, and thus discovered portraiture for myself. At that time mainly young boys - more or less my first attempts. I still like the drawings very much today. It was clear that I would not leave it at the first attempts. I'm fascinated by everything about people.
Each person is individual, has its own story to tell. Especially the different facial expressions have done it to me and play for many years a big role in my art.
How did you come to art in general?
I was born in Kamnitz in the former CSSR. At that time we were expellees who found refuge in Austria and had to find our feet quickly. My father was one of the founders of the glass school in Kramsach in Tyrol. It quickly became clear that I, too would first learn everything about glass processing. After my apprenticeship, I worked as a construction technician in the 1960s, which I also enjoyed. But I
always had one big goal in mind: to study at the Academy of Art in Munich.
And that worked?
It worked out, yes. Although a little later: I wasn't enrolled at the academy until I was 40. My husband and I had already been in Munich for a while. And then I finally took the plunge. Before that, I first had to pass the entrance exam that's not easy! (laughs) But I had a lot of positive encouragement from outside. And
it was possible to take part in lectures or art trips even without enrolling. That's what I did, and when I started at the academy, I had a great time.
Tell me, what makes the Academy of Fine Arts so special?
To be artistically successful, to be respected and simply to be taken seriously, one should you had to complete a course of study. There was no getting around it. I studied with with Professor Günther Förg, a renowned artist. It was an incredibly formative time, and we students were very well supported. I had my own studio, and we were in constant exchange with each other. No one wanted to leave so quickly. Those who could afford it, stayed longer than the standard period of study. After five years, I applied for an extension of one year, which was granted. I finished my studies with a diploma.
And then your artistic career began?
Through the contacts I made at the academy, I was able to develop my art further and eventually exhibit my own works. The first vernissages were important milestones. My special portrait style was even once honored with the the Danner Prize. The Danner Foundation annually honors outstanding works of art in
Bavaria. A very special moment for me! It is still one of my favorite motifs, which I also still own myself. However, this was not one of my sculptures, but rather an expressive painting in oil on canvas: a section of the famous dome of the Pantheon, which we had visited during a study trip to Rome. My paintings have so far been acquired by the Bayerische Staatsgemäldesammlung, BMW, the Hypovereinsbank and private collectors.
Why did you finally settle in Schwabinger Tor?
Actually, my husband and I already lived here when the studios were opened. After we gave up our house on the Ammersee, it was clear to me that I would sooner or later have to find a place to store, exhibit and work. And since I was in the direct neighborhood, I could follow everything closely on the spot. I believe
that was providence! The proximity to our apartment is just brilliant for me. And the location is perfect in general: as long as we are still fit, we try to reach everything on foot.
Reach to the stars: Where is your artistic journey heading?
My active artistic time is very important to me. But thank God I have no pressure. I can just work creatively here. Everything comes as it comes - that's fine! Here in the studio I like the togetherness, the exchange and of course I'm there when we exhibit with the together with the community of artists. In the future, my husband and I also want to go away for a longer time with the camper, in order to look at as many works of art history as possible. I'm looking forward to that, and of course I always have my painting kit with me. I then paint my associations to these pictures. From Leonardo da Vinci's "Lady
with the Ermine" (Cecilia Galleriani) I am currently creating, for example, my own "Young Woman with a
Rat".