Th 7. Apr 2022
Unconventional fashion for individualists
Artists of Schwabinger Tor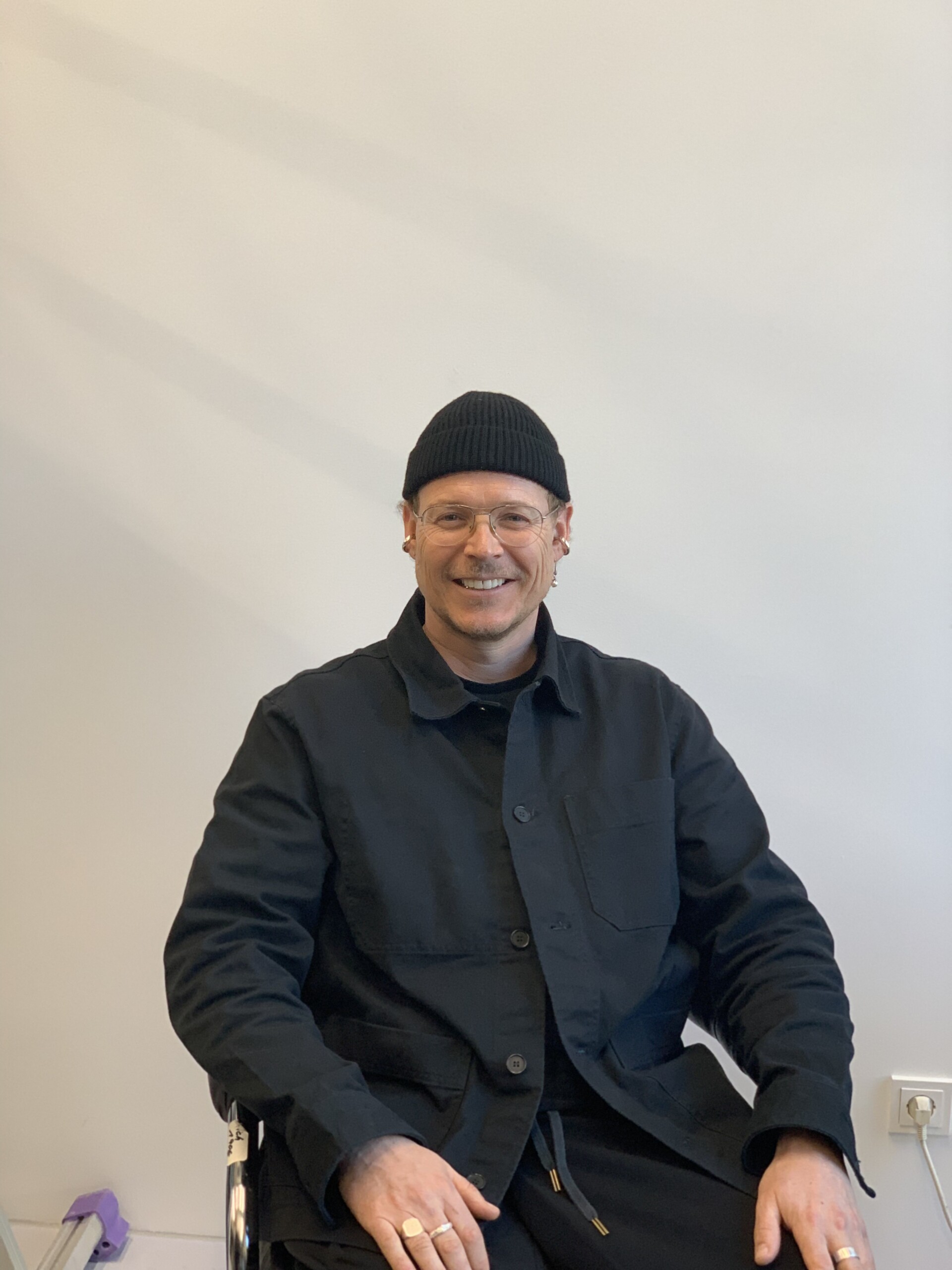 Our today's "Artist of Schwabinger Tor" has been around a lot in the fashion world. From studying in London to the big fashion shows in Milan and Paris, he was finally drawn to Munich. Since February TOM REBL is part of our artist collective and we couldn't be happier to welcome such a fashion icon to Schwabinger Tor.
Hi Tom! What kind of art do you create here at Schwabinger Tor?
I'm a fashion designer and sell unconventional fashion for men and women through my eponymous label TOM REBL. My style is subtly provocative, but not quite as wild as it once was (laughs). Today I work with a lot of attention to detail, attach great importance to the fit of my creations. The most important thing for me is and remains that people feel good when they wear my fashion.
Tell me, how did you get into fashion in the first place?
I grew up in Landau, Lower Bavaria, and after graduating from high school I entered the fashion business via the German Master School in Munich and my studies at St. Martins College in London. During my studies I was able to gain great practical experience at fashion houses like Vivienne Westwood and Alexander McQueen. So it looked like a relatively smooth path - I thought I would find a job easily, but then everything turned out quite differently and I started as a trend forecaster at a startup.
But trend scouting doesn't have much to do with the actual creation of fashion at first? hat?
That's true, but it was still a very enriching time. I traveled a lot and was able to track down trends on the streets of big cities. With all that inspiration in my luggage, I finally took the plunge and applied to work as a designer for Andrew MacKenzie in Italy. The acceptance came promptly and then I was thrown into the ice cold water.
What exactly did your ice-cold water look like?
When I came to Italy, I went straight in as creative director, because Andrew MacKenzie himself had decided to leave the company. Phew, I had a lot to shoulder there. To this day, I sometimes puzzle over how that worked out so well. But I just did it, was pretty hands-on, and created my first women's, men's and accessories collections that way. Along the way, I learned Italian, attended fashion shows, and really understood the business in the first place. That was an intense time. Because I really wanted and had to maintain the label's signature to a certain extent. You can't just start somewhere and live out your own style. The producer at the time was a huge help to me because he knew Andrew's designs very well. So my start in the fashion business was really one from 0 to 100.
What happened next?
Andrew MacKenzie bought back the rights to his brand after quite some time and so I was once again faced with a big decision: Do I want to put myself at the service of another fashion house again, or do I take the plunge and start my own label? My producer quickly realized that only the second way would be my path. He encouraged me and so "Tom Rebl for Andrew MacKenzie" finally turned into "TOM REBL - Shocking Radiance" in 2008.
What does "Shocking Radiance" stand for?
Pretty early on, I set my sights on a fashion style that went against the mainstream. At the beginning, I wasn't quite sure what 'my style' actually was. I just knew that boring, monotonous styles were not it. And so I approached it bit by bit. In the end, I became known for provocative prints or leather jackets with huge, pointed rivets. So a little bit of punk and rebellion, a little bit of "shock" was always recognizable in my pieces. My trademark has become the kissing mouth. The stylized lips as part of the logo are a symbol of sensuality, recognizable on the one hand, but also unmistakable around the world. In this I have found my style well.
And what are you doing today?
The Corona crisis hit the entire fashion industry pretty hard. The situation in Italy was really dramatic in the spring of 2020. So I made a virtue of necessity and changed again. When the "red zone" was declared in Italy, I was just in Munich. Returning to Milan was not an option for now, so I gave myself a creative break and spent three very intense months with my parents in Landau. It was a great time that gave me a lot and also made me rethink. The 'higher-faster-further' of the industry had been bothering me for a while, I didn't want to go back there. So I decided to slim down my brand, to think more in terms of capsule collections and to focus on direct sales. So that meant bye bye, Fashionweeks, bye bye wholesale! And I'm telling you: I am so happy to have taken this step.
And that's how you finally ended up at Schwabinger Tor?
In the end yes, the way there still dragged on a bit, but since February I am now part of the studio community and am very happy. I still have my apartment in Milan, but I'm arriving here more and more. My studio is my attic. That's what I call it. It is a storage space where energy, matter and goods are stored. But everything remains in flow - it's meant to be a kind of "open house". Anyone can drop in and say hello. Of course, this idea also favors the very open architecture. The large window front makes my storage unit look as if it were a small store of its own. I fell in love with it right away and learn to appreciate the surroundings more every day. My view practically overlooks the Schwabinger See lake, and there's always something going on here. Only recently I officially opened my studio, the direct contact with people is enormously important to me.
Who is your fashion aimed at today?
My fashion is still made for individualists. For people who want to stand out, stand out from the crowd. Just like me, most of them are very cosmopolitan, like to travel, know fashion. Over the years, many celebrities have also sourced their stage outfits through me. From Sharon Stone and Justin Bieber to Eros Ramazotti, Dieter Bohlen, Green Day, Jorge Gonzales, Peter Maffei, Papis Loveday and many others. It makes you proud to see your own creation on the big world stages!
Where do you draw your inspiration from?
Basically, I incorporate my entire life into my fashion. Everything influences you, where the inspiration comes from in the end doesn't really matter. But I always have a sketchbook with me and yes, a very big passion is still traveling. Now that it's getting easier again, I'm looking forward to my next visit to Beirut. I love the city, everything is so lively there, I met incredibly interesting people. Beirut is alive with great restaurants and bars, eclectic designs.
Reach to the stars: Where is your artistic journey heading?
For now, it's important for me to keep my independence and live it out here at Schwabinger Tor. Besides developing my 'new' TOM REBL label, I also want to continue teaching. I am a lecturer at some universities and I really enjoy passing on what I have experienced. The fashion business is a tough business, many students get their inspiration from the internet, but they sometimes lack the connection to reality. Some have misconceptions about Fashion Weeks, parties & Co. - so they don't underestimate the actual work that goes behind it, I want to accompany them. The rest I let come to me.
#Thank you for these insights, dear Tom - we love to be your Art Homebase!